---
Share Your Thoughts!

With so many dramatic changes in society and the way we work, this is an incredibly dynamic time in talent mobility. Now more than ever, we need to discuss real word challenges and practical solutions. At TRC, we are an organization of inquisitive people focused on continually improving ourselves, our organization and the global mobility industry, and we would be excited to hear what you have to say!
As a global mobility professional, we hope you can take a second to share your thoughts on the questions we find ourselves talking about most often. We will share the results of these surveys each month.
---
Results: How do companies expect their relocation activity to perform this year?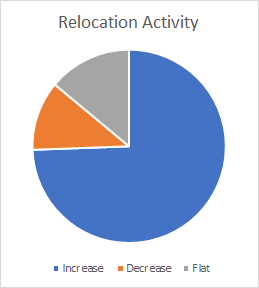 TRC's first Question of the Month of 2020 asked respondents whether they expected their 2020 relocation activity to increase, decrease or remain flat. Our respondents confirm that relocation is becoming an increasingly popular way for companies to combat talent shortages. Half of the respondents said they expected relocation activity to increase somewhat to significantly. About 14% expected activity to remain flat and about 12% expected activity to decrease somewhat to significantly.
---
Results: How many domestic policy tiers does your company currently use?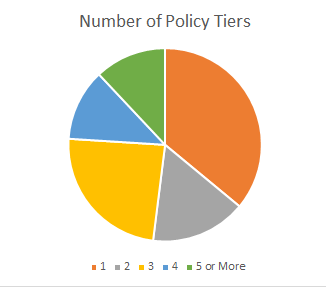 TRC's 2019 year-end Question of the Month asked respondents how many domestic policy tiers their company currently uses. While the most popular response was one, three was also a common response. A significant number indicated their company still uses five or more tiers.
To learn more about today's relocation policy trends, get TRC's complimentary 2020 U.S. Domestic Relocation Policy Best Practices ebook here.
---
Results: Is your organization currently using, or considering adopting, a core-flex relocation program?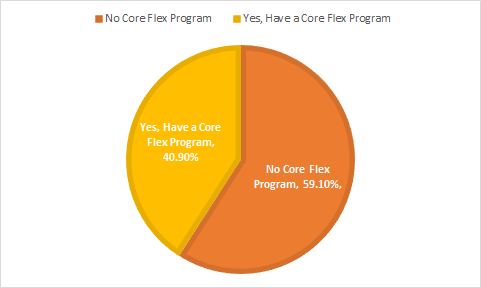 TRC's October Question of the Month asked respondents if they were currently using or considering adopting a core-flex relocation program. Nearly half of respondents said they were either already using a core-flex program or they were considering it. Core-flex programs have pros and cons, but they can introduce an element of choice that employees like while still allowing companies to control relocation costs. Get TRC's complimentary Core-Flex Relocation Programs ebook here.